The customer
Alba is one of the world's largest aluminium smelters with a production of more than 1.561 million metric tonnes per annum (2021). Over the last five decades, Alba has been a major contributor to the social, industrial, and economic development of the Kingdom of Bahrain. Alba is recognised as one of the top industrial companies in the world with high standards in Environment practices, Social contribution and Corporate Governance. Over 50 years, the Company has invested into projects that had a positive impact on the society in which it operates.
The challenge
Aluminum Bahrain (Alba)'s Power Station 5 (PS5) project required the design, engineering, procurement, construction, and commissioning of an 1,800 MW power station in Bahrain. The PS5 power station was designed to host 3 Gas Turbines, 3 Steam Turbines and 3 heat recovery system steam generators, making it the most efficient Power Plant in Bahrain.
GE and GAMA Consortium were responsible for the engineering, procurement, and construction of the power station. Clauger Technofrigo PGE was selected by GE and GAMA Consortium as the supplier of the gas compression systems.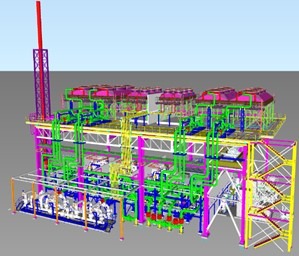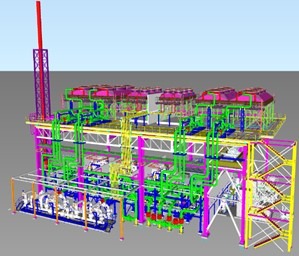 The result
Clauger-Technofrigo PGE designed, executed, supplied, and commissioned four (4) gas compression systems for Alba's PS5 project. Our gas compression stations included four gas compression systems with related trains and is used for fuel gas boosting to three GE gas turbines. Each gas compression train is comprised of the following primary components:
Integrally geared centrifugal compressor
Main Electrical Motor
Discharge gas cooling system
Machinery protection system
Lube-oil system
Oil-cooler system
Seal-gas system
Acoustic enclosure ventilation system
Air-generating system
Nitrogen-generating system
Instrument air-distribution system
Technical Specifications
Application: gas turbine feed
Number of turbines: 3
Turbine manufacturer: General Electric
Turbine Model: 9HA .01
Turbine size: 400MW
Number of compressors: 4
Compressor manufacturer: Borsig
Compressor type: centrifugal integrally geared
Compressor model: BTC38-3
Suction Pressure (bar g): 15.5
Discharge Pressure (bar g): 38
Gas Flow Rate (Nm3/h): 122.000
Motor Installed Power (kW): 6500
Start-up Date: 2019
"Alba's PS 5 power station is now the largest and most efficient power station in Bahrain and first power station with H-class gas turbine technology in the Gulf region."
Shaikh Daij Bin Salman Bin Daij Al Khalifa – Alba's Chairman