Our Strategic Synergies
Since 2019, Soteck and Clauger have worked together to add more value to our clients and our employees by sharing knowledge, experience and resources. Today, Clauger and Soteck take the next step by signing a new shareholder agreement, reinforcing the partnership into the future.
"We're taking the next step in our evolution by strengthening our synergies as we integrate Clauger's expertise into our current capabilities," said Soteck Director, David Perreault. "As we continue our growth, it's key to offer and create opportunities for our employees to develop and innovate over time. This partnership will allow us to bring more value to our clients and continue the development of our solutions."
"Clauger's ambition is to develop a global company, while remaining close to our customers. Our objective is to bring them maximum value through our local teams and specialists," says Frédéric Minssieux, Clauger CEO. "Our challenge now is to continue the development and synergies with Soteck to offer all of our joint expertise, whether it be related to our clients' products, processes or factory."
A shared vision driven by our values
Sylvain Ouellette, Soteck's founder and president since 1993, and Robert Béliveau, one of the company's shareholders and general manager since 2013, have decided to withdraw their shares from the company.
For them, this is a logical next step as the core values and DNA which Soteck was built on are reflected in the project with Clauger. These values include our people, client satisfaction, innovation, and sustainable development. They will remain involved on Soteck's advisory board; their experience and knowledge of the business are tremendous assets to the current leadership team.
"Sylvain has left his mark on my career with his confidence in the team members and his ability to innovate and think outside the box. He leaves a remarkable legacy, which allows us to stand out in our field," remarked Pierre-André P. Guay, Soteck's Technical Director.
Clauger is now the majority shareholder of Soteck. David Perreault and Pierre-André P. Guay will continue in their leadership roles and remain shareholders of the company. Soteck also announced the rollout of a new shareholding initiative for their employees.
"Robert has laid a solid foundation to structure and support the growth that Soteck has experienced over the past few years. His input and management support has helped develop the team, and I am very grateful." David Perreault.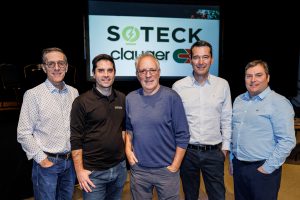 ABOUT Soteck
Soteck designs and installs innovative air treatment and energy management solutions for various industries. Soteck serves clients throughout Canada and the United States. An eco-responsible company, Soteck is proud of the success driven by its 80 employees and numerous partners since 1993.