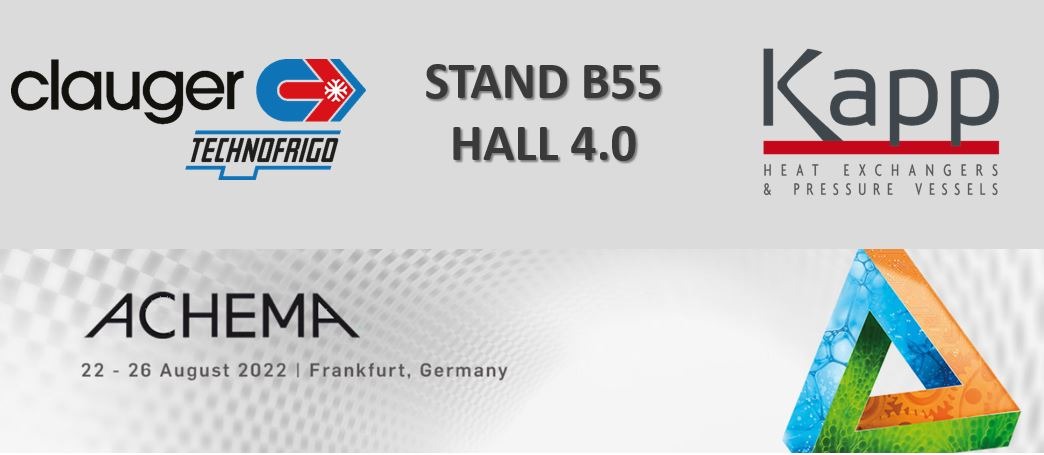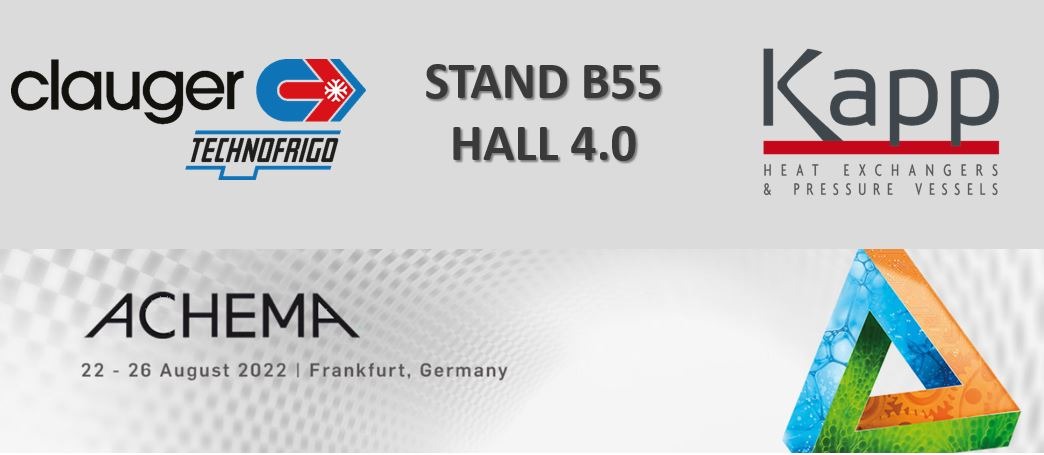 From August 22 until August 26, 2022, Clauger will be exhibiting at the 2022 ACHEMA Expo, located at the Frankfurt Fairground in Frankfurt, Germany.
ACHEMA is the world forum for chemical engineering, process engineering, and biotechnology. The spectrum of topics ranges from laboratory equipment, pumps, and analytical devices to packaging machinery, boilers and stirrers through to safety technology, materials and software, thus covering the entire needs of the chemical, pharmaceutical and food production industries.
This year's theme is…
INSPIRING SUSTAINABLE CONNECTIONS
Clauger Technofrigo is a turnkey solution provider for the process industry. With over 500 references and satisfied clients globally, our company is proud of our reputation as a high-quality and responsive partner. The quality of our products is ensured at all levels of production, from design to manufacturing.
Clauger-Technofrigo is a custom solutions provider, packager, and service partner around the world.
At this year's world-leading fair, Clauger will highlight our sustainable Refrigeration and Thermal solutions for the chemical, pharmaceutical, food & renewables industries, all while meeting with our valued partners, clients, and other industry leaders. One of Clauger's key partners, Kapp, will be co-exposing in our booth alongside the Clauger-Technofrigo S.p.A. team.
What else you can expect at Clauger's booth:
Discuss our capabilities to support complex refrigeration, packager, energy optimization & recovery, gas compression
Learn about all our service offers: engineering, design, manufacturing, installation, service, training, quality certification, start-up.
References and capabilities for semi-industrial ATEX skids (containerized).
Heat exchanger technology designed for chemical processes from our partner, Kapp.
Get answers and learn more about our products and services at different levels!
We look forward to welcoming you at Stand B55 in Hall 4.0 to show you how Clauger is inspiring sustainable connections.
Not registered yet? Register here Register here or contact Claudio Barberio at cbarberio@clauger.net to get a voucher code and your FREE day pass to ACHEMA 2022!
We look forward to seeing you in Frankfurt!